Regulations
Simplified Stair Rules for Dwellings
This is a simplified set of guidelines describing the most common aspects in a stair design for dwellings. Formal and complete guidance is provided within The Building Regulations Annex K – Protection from falling, collision and impact for certified guidelines and anything other than dwellings.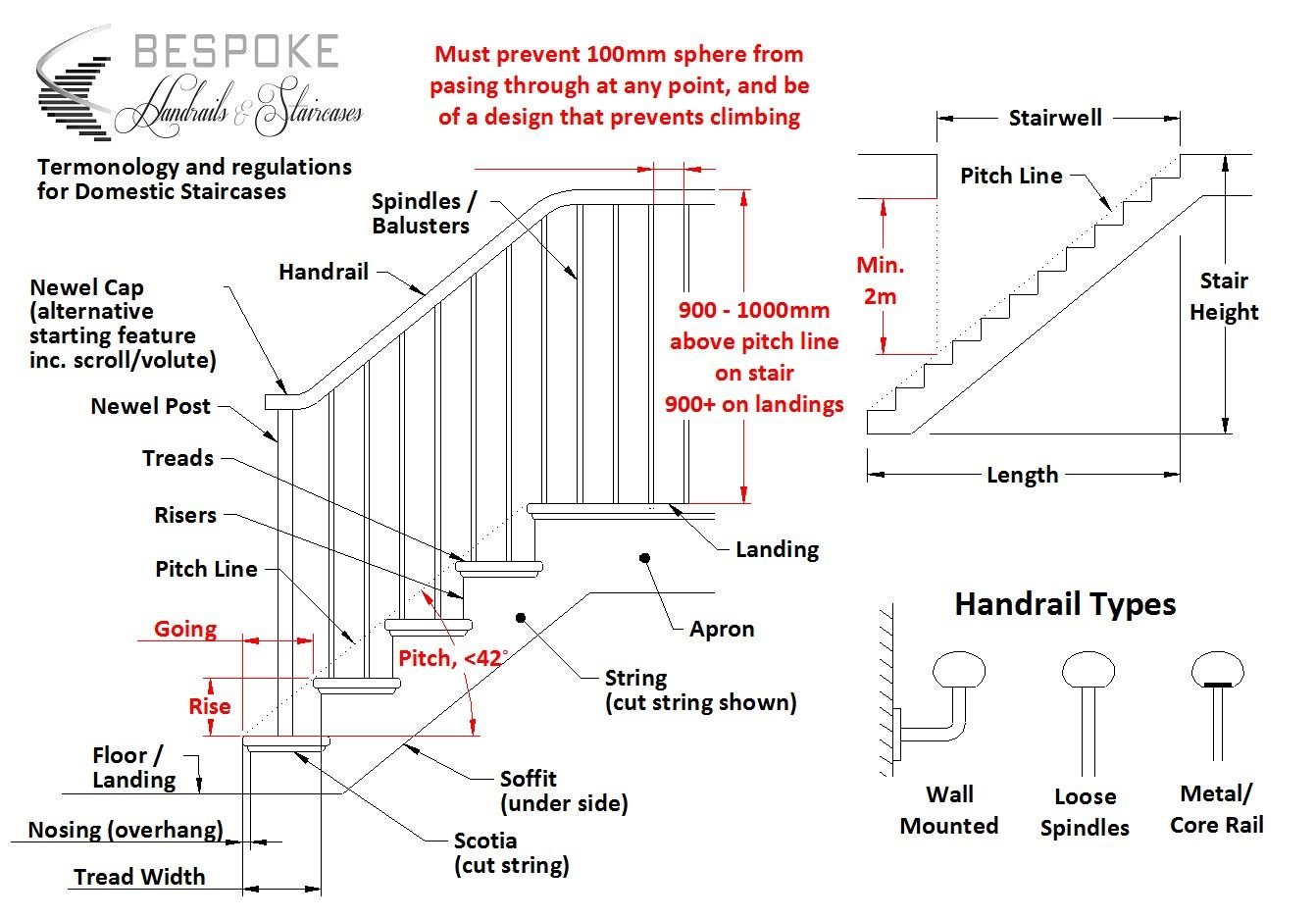 Rise & Going: Stair must meet the following rise and going limitations
Type
Rise (mm)
Going (mm)
Stair Rule *
Private
150-220 **
220-300
550-700
Utility
150-190
250-400
General Access
150-170
250-400
* Stair Rule – 2 x Rise + Going
** 170-200 is generally preferred
Min going on smallest part of winders = 50mm
For stairs < 1m wide, going is measured in the middle,
For stairs >1m wide, going measured at 270mm from each side
Headroom:
­Must be >2m all locations on flights and landing, (note more headroom provides feeling of space)
­For Loft conversions permissible >1.9m middle of stair, >1.8 at lowest point.
Landings
­Mid-flight landing steps should be at least as wide and long as the smallest stair width
­Must be clear of permanent obstructions
­Cupboard doors may open over landings, but minimum unobstructed free space of 400mm.
­Top/bottom landings should be level, but can be up to 1:60 slope if paved or appropriately firm
­Door may swing across landing (bottom only) providing unobstructed free space of 400mm from 1st tread.
Alternative tread stairs: allowable for loft conversions only if insufficient space to satisfy other requirements
Open Risers: permissible in dwellings provided there is a minimum gap of 100mm and treads overlap >16mm
Handrails
­Top of handrail between 900mm and 1000mm from pitch/nosing line or floor
­Handrail is required on one side of stair, and on both sides if the stair width is >1000mm
Balustrade / Guarding:
­Unless exemption from children <5, Must prevent 100mm sphere passing through & be resistant to children climbing
Required on flight and landings >600mm high
­Be of sufficient strength and level of safety (e.g. glass breaking), see building regulations for details